Camp PEACE is one of our most important programs. Working with children is a vital component of our mission to end domestic violence and were we devastated by the thought of not holding camp this summer. So we did what we do best: rolled up our sleeves, got creative, and created something beautiful for the families we serve.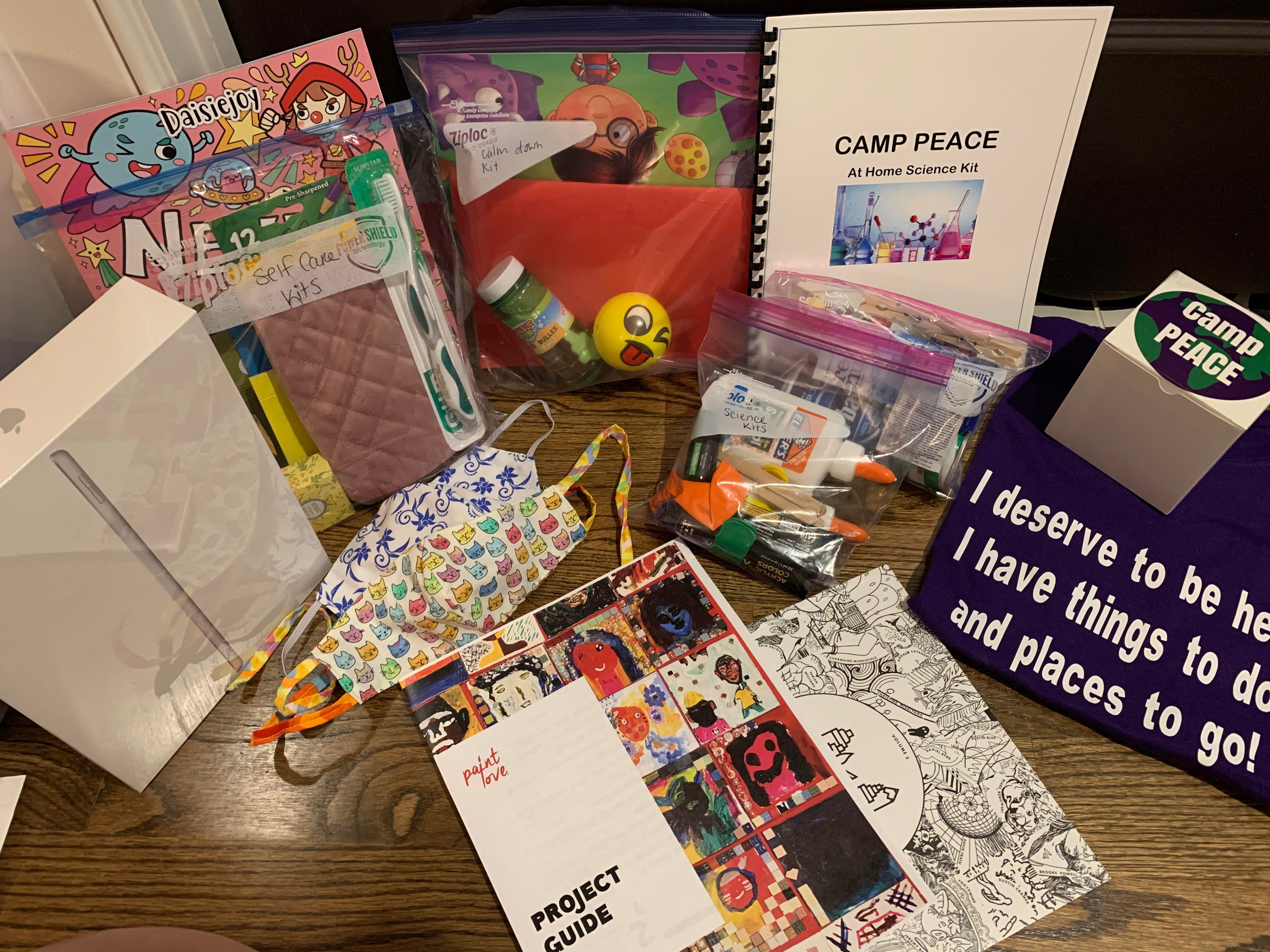 "We just got our Camp PEACE kit, we couldn't believe how much stuff is in it! Best Camp Ever! We can't wait to paint and do projects together! Thank you so much."
Phase 1:
Camp PEACE kits
Our Camp PEACE kits were created to help meet the needs of families and to promote the goals of Camp PEACE. The kits contain social-emotional activities, peace education projects, and other trauma-informed fun that aims to build resiliency in kids while staying at home. These kits target five major themes: technology, science, self-care, art, and calm down strategies.
Kit contents (serving more than 30 families and 60 kids)
iPads and protective cases (for learning and communicating with camp staff)

Science experiments (directions and supplies included)

Art projects donated by our fantastic partner Paint Love (social-emotional, self-guided learning through art)

Calm-down kits: squishy ball, meditation coloring book, bubbles, drawing paper, pinwheel, meditation book, coloring supplies

Self-care kit: bath bombs, tooth brushes, ear phones, soap, face masks, journaling tools

Kroger gift cards for meals the kids would have received at camp

Drawstring bags & toiletry bags

Adult coloring books

Spa gifts for Mom (gift wrapped)

Cloth face masks

Camp PEACE T-shirts: "I deserve to be here. I have things to do and places to go."

Books lovingly chosen for each family
"We just looked through our Camp PEACE kits and we love the handpicked books for each kid, we can tell so much love was put into this kit, thank you."
Phase 2:
Virtual Camp
Phase two was the launch of our new virtual learning site. On the site, campers have access to virtual programming and earn incentives for engagement.
SEE Learning (Social, Emotional, and Ethical Learning) is a state-of-the-art curriculum created at Emory University. For more than two years, Camp PEACE has been an active case study in the development and implementation of their curriculum. This year SEE Learning has been adapted for virtual learning by Cassandra Velasco and Selina Armstrong, our SEE Learning Specialists. Together they will be creating three videos each week for campers to engage with around topics such as Emotions, Sensations, Resilience/Resiliency Zones, Attention, Self-Awareness, Empathy, and Interdependence. Each video presents a topic, leads the viewer through an activity, and ends with a challenge for the children to participate in. For each interactive challenge completed, a camper earns points which add up to earn end-of-the-week incentives, such as a pizza or ice cream party sent to their house!
PEACE Talks is digital video series, where community members provide five-minute videos for kids on topics ranging from financial literacy to self-care and more. Our goal is to inspire, educate, and motivate children to dream beyond their surroundings and begin to discover new aspirations and talents. Topics may include how-to demonstrations, life hacks, lessons, inspiration, tips, calm-down hobbies, job dreaming and more.
And Fun! We also have offering virtual meetings, discussions, book clubs, dance parties and more!
" The iPads are so nice! We can't believe it and the Kroger cards are a lifesaver! THANK YOU!"
"This is such a blessing, I have been struggling so much and I appreciate you all seriously."
Phase 3:
Socially Distanced Field Trips
Phase three is to incorporate small, socially distanced field trips of 10 or less people in open-air environments.
Our Camp PEACE community is saddened at not being physically together this summer. With safety and intention in mind, we are hoping to facilitate small group field trips equipped with masks, gloves, hand sanitizer, and social distancing. The safety of our families, staff and volunteers are of utmost importance, so we will follow all CDC guidelines carefully in planning summer open-air field trips. The feasibility of the phase depends on current health and safety guidelines for the metro area.